How is Color Harmony Provided in Combinations?
Posted by MARIE CLAIRE BAGS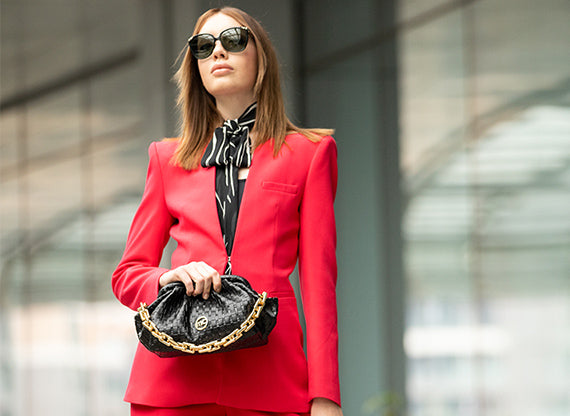 Every woman wants to be harmonious and stylish, from her make-up to her shoes and outfits, at the start of the day. For this reason, we should pay attention to color harmony while preparing our combinations.
Of course, besides this, our skin color is one of the most important points. However, one of the mistakes many women make is to shop without knowing their skin color. First of all, we need to recognize our skin color and determine the color tone of what we are going to buy.
Why is color harmony important in clothing? As for the question; the right color combinations can make us feel much better and attract attention in the environment we are in. Combining the same tones is easy and always feels good, and it is quite possible to look stylish with contrasting colors. We can achieve a holistic elegance by using warm-cold colors. Contrasting colors can be more striking and impressive.
How to Combine Black, White and Gray?
Black is the noblest, most classic and most liberating color among the colors. The black color, which has a counter in every woman's closet, is an indispensable part not only for women but also for men. Black color is valid for all styles. It is a color that is often preferred in organizations such as street style, office style, weddings and invitations.
Like white, black is a color that can be used in harmony with all other colors. Black color that camouflages all body lines; It has become indispensable for women who are overweight and do not like to take risks. It is possible to make a high-energy combination when mixed with warm colors such as yellow, orange and red.
One of the easiest colors to combine with other colors is white. Because white color contains all colors, it provides a unity with every color that will come next to it. Since it is a color that reflects cleanliness, it creates a pure and modest appearance. White color, which can be easily combined with all colors from the color scale, does not always mean that it will create elegance. Since it is a color that does not have a camouflage feature, it is a color that is generally avoided by overweight people. It is a color that is generally avoided by overweight people.
The most indispensable of clothing choices is the gray color. It is the color we are accustomed to prefer in sports pieces in general. Colors that are compatible with gray are easier to combine with other colors since gray is a neutral color that we love to use in summer/winter and is among the indispensable colors.
Combination Suggestions Compatible with Blue Tones
Colors often give us an idea about the person in front of us. Blue is a color preferred by women as it represents clarity. Blue, one of the trend colors of the spring season; Combinations with warm colors such as pink, orange, yellow can become quite eye-catching.
Baby blue is the most beautiful tone of blue that is most preferred in the spring and summer months. Colors that are compatible with navy blue, green, gray, orange, light yellow, red and white
are very well matched.
Combination Suggestions Compatible with Red Tones
Red is the color with the highest frequency among the primary colors. Since it is a color that attracts attention, we can combine it with more minimal colors. Nice combinations can be made with cream, beige, black, gray and tan. Vivid and energetic, red is one of the most indispensable colors of summer months.
Combination Suggestions Compatible with Green Tones
What are the combination suggestions that are compatible with green tones? It is necessary to combine the green color, which represents nature, correctly. So what tones are compatible with green colors?
Green and its tones are generally preferred in Spring / Summer. It can be combined beautifully with its own tones. It has many different tones such as mint green, water green, light dark green. We can achieve a relaxed but serious look with white, brown or black.
Combination Suggestions Compatible with Pink Tones
One of the colors that never goes out of fashion is pink. Combination suggestions for the color pink are quite wide. You can choose pink and its undertones in every style and in every environment. The color pink evokes romance. For this color, tone-on-tone is a must-try.
😊
Pastel pink tones are very suitable for a cool transition.
Pink is already an assertive color on its own. If you do not want to attract too much attention, you can combine it with white and provide a stylish integrity. Green, Light Green, Grey, Turquoise and Blue are colors that can be successfully combined with pink.
How to Provide Color Harmony in Claret Red and Purple Clothes?
Burgundy is a mixture of many colors. In every woman's closet, a piece of burgundy should be a savior color. We can achieve a simple elegant look with black and gray. For soft transitions in burgundy combinations, we can use it with colors such as mustard yellow and powder.
Let's come to the use of purple color; Purple is one of the cool colors. Combining hard and cold colors is more difficult than colors in warm or pastel tones. It is necessary to be a little more careful for colors that are compatible with purple. There is a risk of making eye-catching and distracting combinations with wrong color combinations. The meeting of black with purple has a dazzling atmosphere when used in evening dresses and silks. We can tone the purple color with its own tones, if our skin color is fair, choosing from light to dark inside will make us look more elegant.
Must-have Bags for Combinations
Bags are one of the most important accessories for women. Combination and bag compatibility is very important for every woman who is interested in fashion. We women spend the most money on bags when shopping. Elegance is holistic.
One of the other issues that women give the most importance after choosing the combination is the bags, which are the most beautiful complement to their clothes.
A global brand, Marie Claire Bags provides convenience to women with its wide range of models. It becomes the best complement to the combinations with the width of the color scale for wedding, invitation, office elegance and daily use. Marie Claire Bags brand appealing to all age groups; prioritizes elegance and quality. It designs models for you that you can use in every area of ​​your life. It becomes an integral part of your clothes with models such as sports, masculine, feminine and classic.
You can check out the most special products that will complete your elegance at
https://www.marieclairebags.com/
.
Collection 2019
Sale 70% Off
Title for image