PRODUCT INFORMATION
CANCELLATION AND REFUND TERMS
CARGO AND SHIPMENT
CUSTOMER REVIEWS
PRODUCT INFORMATION
Marie Claire make-up bags, which are carried in large shoulder bags both on travels and daily, become one of your special pieces with their practicality and stylish design. Eloy , the women's make-up suitcase designed to fit all make-up materials, is in the size that you can carry all your personal care products with you, especially on long trips. The make-up suitcase with outer pockets, plenty of eyes and layered pockets is an ideal option for those who have a large number of make-up items. You can categorize and place all your materials in makeup bag models that provide regular use. Thus, you can easily reach the material you are looking for, and you can also ensure that they occupy less space with this makeup bag. You can complete your bag combination by choosing the timeless designed Marie Claire make-up bags in colors suitable for the large shoulder bag. Small makeup bags and transparent makeup bag models are usually an option that you can carry with you on a daily basis. In order to prevent spilling of liquid materials such as perfume and foundation, Marie Claire 's make-up bag is highly appreciated with its vertical molded bag options that it produces with female users in mind. You can create an order now to have one of the Marie Claire make-up bags you need. Thus, you can have a stylish and useful make-up bag with affordable make-up bag prices and advantageous payment options.
Product features
Product Code : MC212111184
Gender : Female
Collection : Eloy Makeup Bag
Model : Eloy
Style : relax
Lining : Textile
Material : Faux Leather
Monogram : Yes
Weight : 160 g
Dimensions : 19x12x6 cm
Warranty : Products are guaranteed for 1 year.
Security : Returns of products with opened security bands are not accepted.
Authenticity : 100% original certified by Marie Claire Paris.
Production : Made in Turkey.
CANCELLATION AND REFUND TERMS
You can request a refund by sending the products you have purchased (in parts or all) on marieclairebasgs.com, provided that they have not been used within fourteen (14) days from the date of order.

Trendyol.com, Hepsiburada.com etc. If you buy Marie Claire products through the sites, you are subject to the return/exchange and shipping conditions of the relevant website. The following referrals only apply to www.marieclairebags.com orders.

How can I cancel or refund?

First of all, you can send an e-mail to info@marieclairebags.com with your order number or you can get support from our customer service at 0 850 302 23 32 during working hours.
Prepare the package: After creating your cancellation/refund request, pack the product securely in its original packaging with your invoice. Returns of products with damaged or removed security tapes are not accepted. If you cannot find your invoice, you can reach your e-archive invoice from your e-mail address, send an e-mail to info@marieclairebags.com or get support from our customer service at 0 850 302 23 32 during working hours.
Call YURTİÇİ Cargo and request a free pick from your address.
You can request a courier for your return cargo by contacting YURTİÇİ Cargo on 444 99 99. You can also specify the date and time the package will be picked up from your address.

Online Warehouse Return Address
Yenibosna Merkez Mah. 1. Asena Sok.
Istanbul Congress Center Block C No: 15C/81
34197 Bahcelievler/ Istanbul

Exchange Terms
We do not have an exchange process. Only refunds are made.

Order cancellation

In accordance with consumer rights, you can exercise your right of withdrawal from your order before your order is delivered to the cargo. For this, you must open an 'Order Cancellation' request from the My Account/Return Requests field or inform info@marieclairebags.com about your order or product that you want to cancel before you are notified by e-mail that your order has been delivered to cargo. If your order has been delivered to cargo, you can use your right to return within thirty (30) days in accordance with the Consumer Protection Law.

Pay back

The amount of your product, whose return has been approved, will be transferred to your account or credit card within seven (7) business days and you will be informed via your e-mail registered in the system. Due to the COVID-19, which is on the agenda of the world and the country, delays may occur in banks due to the remote working system, and the bank you work with is responsible for delays regarding your refund transactions.


CARGO AND SHIPMENT
Your orders are carefully prepared and delivered to the cargo company within 1 to 3 working days. Orders placed after 16:00 on official days, weekends and Friday are processed on the first working day of the week. Order delivery times may be extended during intense campaign periods and under conditions of force majeure. Order owners and customers are informed about delays via e-mail.

When your order is delivered to the cargo company, you will be notified by SMS and/or e-mail containing the cargo tracking information and cargo delivery date. Delivery times of your orders may differ depending on the shipping companies and address. Unless there is an emergency, the estimated delivery time for Ankara and Istanbul is 1 to 2 business days after your package has been shipped. For other cities, delivery is provided within an average of 3 working days after the cargo is delivered.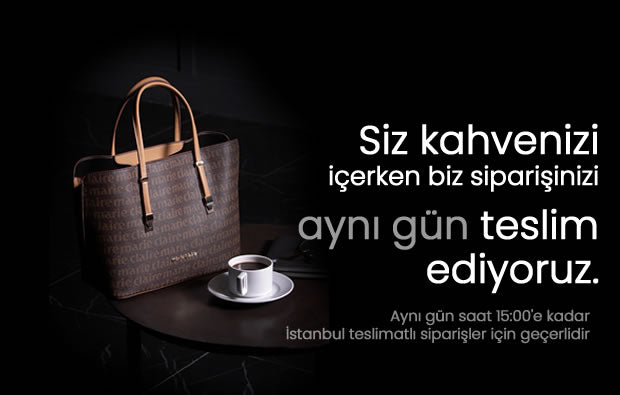 SAME DAY DELIVERY
Click for detailed information
GIFT CARDS
Click for detailed information