How Should the Shoe-Bag Combination Be?
Posted by MARIE CLAIRE BAGS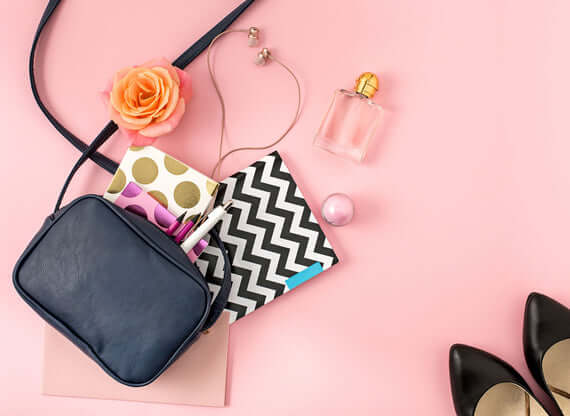 How Should the Shoe-Bag Combination Be?
Undoubtedly, the two most indispensable parts of the women's fashion world are bags and shoes. But how correctly do we use shoe bag combination parts? Whether it's a daily outfit or a special invitation; shoe bag match is strong enough to be the star parts of your outfit combination.
We have prepared the most accurate answer to the question of how the shoe bag combination should be. Of course, we can achieve a holistic elegance with the right combination. The first thing we think about when combining shoes and bags is whether they will fit together. The issue we need to pay attention to should be the compatibility of shoes and bags. Colors, patterns and fabrics are in harmony with each other.
Color and Pattern Harmony Between Bag and Shoes
We know that the two accessories that we women spend the most on are shoes and bags. For those who do not want to take risks, shoes and bags in the same tones are always the safest way. Of course, this does not mean that we cannot use contrasting colors. A small black chain bag on a white dress can make us look very harmonious. In shoe-bag combinations, the styles of the models are as important as the color harmony. We don't always have to use matching colors between shoes and bags. We can achieve a certain harmony with contrasting colors and capture a striking image. A stylish patterned heeled shoe under a solid color jean can make you look cooler in your office style. Another thing we should pay attention to when combining shoes and bags is not to make a hard transition between colors. In addition, there is another issue that we should pay attention to, which is the pattern harmony between the shoes and the bag. Patterned shoes and bags on a patterned outfit can make you look very confused and tiring. Therefore, keeping your bag/shoes or clothes simpler will make you look more elegant.
Shoe-Bag Combinations by Concept
Undoubtedly, the two most important parts of the women's fashion world are bags and shoes. The right bag and shoes for the right place can change your whole mood. A wrong choice at the same rate can turn off all your light. The leading role of our combination, which we attach the most importance after the selection of clothes; are the bags-shoes we choose. Space and time always give us tips to make the right combination. Whether the concept is Christmas, a birthday party or a romantic dinner. It is necessary to combine all assertive and remarkable pieces in the most appropriate way for our style. While going to a New Year's Eve party, a stiletto and patent leather bag can make you look cooler under an elegant dress. The place we will go can give us a great idea about what we should wear.
How to Combine High-Heeled Shoes with Bags?
Heeled shoes are indispensable for women who do not always compromise their elegance and elegance. Heeled shoes and bags, which are indispensable for special occasions, can be the cornerstone of your combination. With the ever-changing fashion, you can determine your style and direct the fashion with tone-on-tone or contrasting colors. Of course, we cannot hide the fact that we spend the most money on shoes and bags in shopping. Whether it is worn with a mini dress or an evening dress; High heels add a different atmosphere when used correctly. High-heeled shoes, which increase self-confidence, provide us women with a feminine stance. In bags and shoes, fabric and pattern harmony is as important as color harmony. Heeled shoes and smaller and chain strap bags should be preferred. You can shop for shoes and bags according to the colors and patterns of the clothes in your closet. There should be an inverse proportion between the length of the heel and the size of the bag. The higher the heel, the smaller and more elegant the bag should be.
How Should the Combination of Sports Shoes and Bags Be?
For women who are fond of comfort, the most important accessory is sneakers. It is possible to use even the most stylish combinations in the fast changing fashion world. The leading role of the Sport-Chic movement of recent times has been white sneakers. Even worn under a satin evening dress, sports shoes appeal to both comfort and the eye. If you are uncomfortable with high-heeled shoes, let the sneakers be your compass. Combining sneakers and bags can be less challenging for us women. Larger size bags, bag model bags can be more compatible with sports shoes. White sneakers and colorful bags that reflect the energy of summer can also make us feel joyful.
Evening Dress Bag-Shoe Matching
In the women's fashion world, you can create the balance by catching the harmony of shoes and bags. A smaller bag should always be used with evening dresses. If a high heel is preferred, the portfolio will be in harmony with a bag and evening dress. A stylish bag that does not play the role of a dress can change your whole mood. Add sparkle to your radiance with evening dress bags and shoes, which are indispensable for dinners, graduation ceremonies, engagement and wedding events...
Boot-Bag Combination
Winter season is at hand… In this season, where dark colors are generally preferred, it becomes difficult to make combinations. Every shade of coffee, orange, mustard and green is indispensable for women in cold weather. Although we avoid colors and limit ourselves in winter, larger bags and boots are indispensable. Thick clothes, coats and coats and backpacks worn in winter can be indispensable in cold weather.
Choosing Shoes According to Bag Size
What is important when buying a bag is the size of the bag, as well as what kind of body you have. If you're petite and short, oversized bags can always make you look flatter. Therefore, small and clutch bags may be more suitable for you. Depending on the destination, the patterns and textures of the shoes and bags are as important as the harmony of the colors.
Collection 2019
Sale 70% Off
Title for image