What to Wear for Which Event?
Posted by MARIE CLAIRE BAGS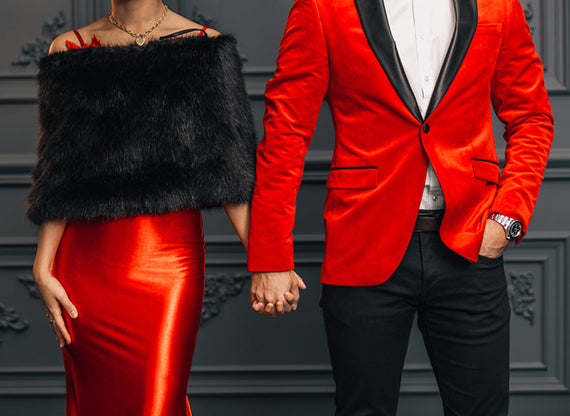 Dozens of people wear their own clothes and clothes that suit them. Fashion means not wearing the most expensive products, but making a striking and beautiful combination with the right pieces. The concepts that we should prefer in all invitations are different from each other. Well, let's take a look at ''What to Wear for Which Event''. 😊
What to Wear at Wedding & Wedding?
What to wear at the wedding and at the wedding? Although the answer to this question may seem simple, it is sometimes quite complicated for women.
what we will wear; The wedding varies depending on the venue, the season, the weather conditions, and most importantly, whose wedding it is. Except for "white", which is an unwritten rule, all colors can be preferred in clothes. One of the things to consider when choosing our dress is that it is suitable for body type. Choosing suitable accessories can always put us ahead of other guests.

What to Wear at a Country Wedding?
Since rural weddings will take place in spring and summer, it is quite appropriate to choose fine fabrics, tulle, frills, and flying clothes. Dress models that come to mind for a country wedding; Pastel tones that create a bohemian atmosphere, floral patterns, flounced and slit models are among the most preferred for country weddings.

What to Wear at a Poolside Wedding?
It is the most preferred poolside weddings in spring and summer. So what to wear at poolside weddings? Mini, strapless, floral dresses, which appeal to every woman as timeless pieces in which summer fabrics are preferred, are quite ideal for a poolside wedding. You can make your combination more striking with hair, make-up and accessories.
What to Wear at a Hotel Wedding?
Although it seems easy for us women to make combinations, we would like to take more care when preparing for a special day. Clothing choices can be stressful, especially in organizations such as weddings. To reduce this stress, we may need to consider the season and location first. Depending on the concept of the hotel, long sequined evening dresses, glittery or low-cut mini dresses can be preferred.

What to Wear When Going to a Job Interview?
Regardless of your style, it is necessary to look attentive and serious when going to a job interview. It should be a style that fits well on you, avoiding excesses. Combining skirts or trousers can give us an advantage. Shiny, mini, low-cut dresses are disadvantageous for the first meeting; A modest choice in which dark colors are preferred can be advantageous.

What to Wear on a First Date?
Although the answer to the question of what to wear on a first date seems easy, it actually has important details. First of all, it is useful to know our body type. 😊 Even if we wear the most beautiful and most expensive clothes in the world, comfort is an important issue. It is almost impossible to act naturally in an outfit that we are not comfortable in and that makes us feel bored. The outfit we choose should show that we take the person in front of us seriously and we should be careful. Being simple and stylish is very suitable for giving the right message to the other party. Our combinations may change according to the place, time and age to be visited. Too much of everything will not be beautiful, and excessive make-up should be avoided in order to look understated and elegant. If it's a hair that looks like it's coming out of the hairdresser's, the first date will be pretty absurd. Let's not forget that usually guys like natural girls. 😊 You can choose minimal and appropriate jewelry suitable for the preferred clothes without going overboard on jewelry.
Dinner Combos
What we wear is among the questions we frequently encounter. Although the answer to the question of what to wear for dinner is quite broad, our priority should of course be to get to know our body correctly. The choice of venue will have an effect on our combination. Who you go where and in what time period can affect our combination. If the meal is a family meal, it can be attended with a comfortable combination provided that it is not shabby. Of course, the combination to be created affects who you go to dinner with and in what time frame.
What to Wear to a Business Lunch?
It can be challenging for working women to dress stylishly and beautifully every day. Especially if there is a meeting or an event at work, we may have a hard time making a decision. The time frame of the business lunch is also very important. If it is a meeting to be held in the morning or at noon, we can combine fabric trousers and jackets to reflect comfort and office elegance.
How to Dress for a Romantic Dinner
We go out for dinner to celebrate special occasions or to have a nice evening. And of course, the first question that comes to our mind is what will we wear tonight? Although the first thing that comes to mind for men is the suit, it is quite difficult for us women. The venue determines what kind of combination we should make for a romantic dinner. In addition, a stylish dress is among the most preferred. Even jeans and a t-shirt can make our job easier when a shabby or comfortable place is preferred.
What to Wear When Going to the Nightclub?
One of the indispensable activities of the weekends is going to the night club. The nightclub seems to be the most suitable environment for you to dance and have fun to relieve the stress of the whole week. 😊 So what will we wear when we go? Assuming that we will go after work on Friday evening, we can choose a stylish and comfortable combination that is not too exaggerated. There may be changes in our outfits depending on the concept of the nightclub we will go to.

What to Wear When Going to the Gym?
Of course, comfort and simplicity are important in the gym. So what to wear when going to fitness? Gathering tights and tracksuits are the first combinations that come to mind. The fabric and thickness of the sweatpants to be worn may change according to the seasonal conditions. If you want to be stylish and you can't stay away from my sport, we can provide accessory support with various wristbands, buckles and our sports bag. Let's come to the choice of shoes, which is another important issue. While doing sports, it is necessary to choose the most comfortable and softest shoes. Considering that flexible movements can be made, it is necessary to make all kinds of comfortable combinations.
Collection 2019
Sale 70% Off
Title for image