Which Clothes and Which Bag?
Posted by MARIE CLAIRE BAGS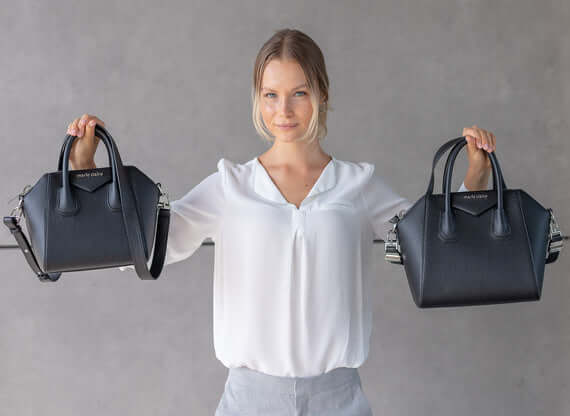 Which Bag Can Be Used With Which Clothes?
Bags are the most important accessories that complete our combination. When the bag selection is not made correctly, our combination may be in the shade. While we choose more colorful and patterned bags for summer dresses, we avoid the use of color in bags because we prefer darker colors in winter. Since colors such as brown, gray, black and navy blue are used both in outerwear and in our coats and coats, we try to buy the bags in those colors at the same rate.
How to Choose a Bag Suitable for Dress?
Since the combinations made according to the seasons vary, the use of bags also changes. Although we have difficulties from time to time when choosing a bag suitable for the dress, it is always the clothes and shoes we choose that guide us.
Short Dress – Bag Combination
The indispensable products of the spring and summer months are definitely short dresses. When the energy of summer meets with one-piece dresses, we feel more enjoyable than ever. After the selection of clothes, the number one complement of the most important combinations are of course bags. We can say that we are very generous in terms of color, especially since we often prefer short dresses in summer. As our color scale expands, the variety of products we will use increases. Colorful chain strap bags , backpacks and even portfolio bags can be used with over-the-knee dresses. Even if the season is winter, when short dresses are preferred, smaller bags should be preferred. The choice of bag according to the body type may also differ from person to person.
Long Dress – Bag Combination
Long dresses, as the savior of all seasons, are definitely in the closet of us women. It is possible to make the easiest combination with long dresses without saying summer and winter. If you have worn a plain slit detailed dress, you can enliven your combination with a colorful or flashy portfolio bag . On the contrary, if you prefer a lively dress, you can have a cool or romantic look by using a simpler bag.
If you want to have a more sporty elegance, larger bags and backpacks can be used. It is very important to choose a bag according to the fabric and form of the clothing worn. Small size bags should be used in chiffon and puffy long dresses. In addition, the pattern of the preferred dress and bag is also important.
Evening Dress – Bag Combination
One of the most important accessories and most used products of us women is undoubtedly the bag. But there are some special days that; There are a few special pieces that we can't resist, waiting to be used in our closet. Especially in wedding and invitation seasons, the harmony of evening dresses and bags is very important. Stony, silvery, sequined… It is free to go overboard with evening dresses and bags. 😊
The choice of bag should of course be chosen according to the evening dress and the organization. Evening dresses are ambitious enough, but the most important accessory to complete this claim is the bag. Silvery, stoned, large or small. In general, evening dresses and clutch or portfolio bags are preferred. Of course, it is also useful to ensure balance and harmony in the selection of dresses and bags… The form of the bag we choose and the materials used should also be taken into consideration.
How to Make Bag - Knitwear Combination?
Since we generally prefer knitwear products in autumn/winter, the bags chosen are naturally suitable for autumn and winter months. It is possible to see all shades of brown, green and yellow in knitwear sweaters and dresses. Since knitwear is generally preferred from autumn to spring, bags are chosen in accordance with this in these colors. Knitwear shows itself in a wide range from daily style to office style and special day combinations. One of the important points is that accessories such as bags and shoes to be combined with knitwear models are compatible. You can check the compatibility of the Marie Claire bag with the knitwear here.
How to Combine a Bag with Sportswear?
Sportswear is undoubtedly one of the most preferred styles for both stylish and comfortable women. One of the most important complements while creating our style is the bag. Backpacks, tote bags and large size bags can be preferred with sports clothes. If you want your star to be a bag according to the combination you make; Unlike your outfit, you can make the color, model or pattern of your bag eye-catching. You can choose large bags, especially with sports clothes. Large bags can also provide advantages in terms of both appearance and use.
How Should the Bag-Coat Harmony Be?
Winter showed its face. Coats and coats began to take their place in the closet. The pieces that we use colorfully during the summer, change shape in the winter and appear before us again. In order to complete our style, it is very important that the bag and coat colors are in harmony.
Collection 2019
Sale 70% Off
Title for image